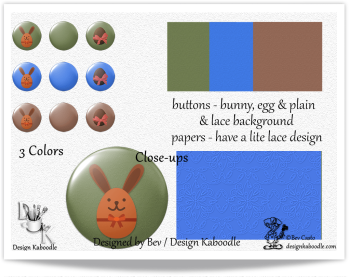 Hello everyone
Hope you guys are doing well I know I have not posted for a long while . I am sorry about that I have been having health issues,.To Be honest I have not open Photoshop or Paint Shop Pro or my  Desktop since January when I showed my comic photo I made . only been to facebook with my ipad . Hopefully I will be on the pc more .
But I did open it today Friday and made just a couple things .. I know this is late for Easter but I am posting it anyway .. you can grab it and have it for next year ..
This share I am sharing today is just Papers & Buttons .. Enjoy The Share … Bev
The Papers :  There is 3 papers they are  in the colors , Blue , Brown Pea-Green. They have a lace texture overlay .. that is real light  .. Matter fact for the preview photo  the lace did not show at all . I  had to take a close-up screen shot of it in photoshop for a closeup shot for you all .
The Buttons:  There is 3 in each color total of 9 buttons.The background is made from the lace  papers that I made  , the colors are   Blue, Brown, Pea- Green  & the design  is a plain one , a egg one , and a rabbit one.
The Papers Size  are 900 x 900 px
The Buttons are 380 x 380  px