Download Zip for print or saving to keep for later it contains the tutorial in pfd & rich text document & plus tutorial images.
We made a zip file for you if you want to save or print the tutorials … The zip file contains the tutorial & images to the tutorial , the tutorials is in 2 formats, (Rich Text Document .RTF} &  (Portable Document Format .PDF ) . You would need a pdf reader click here . or If you have Windows 10 you can open  pdf files in the Edge, Chrome or Firefox Browsers ( That is what we use ).   To open the Rich Text Document use Wordpad that comes with Windows… .

It has been pointed out to me that some people has the basic preset Fat Preset missing in Eye Candy 4  Gradient Glow …  so if you do not have it this is how to make the preset  & save it
 Making The Preset :
 Go to Eye Candy inside PSP
1: Go to setting / press reset to factory default
in the Basic button tab you should have these setting ( click image thumbnails for better view)
Glow Width : 20.16
Soft Corners: 25
Overall OPacity: 100
Draw Only Outside Selection Checked Mark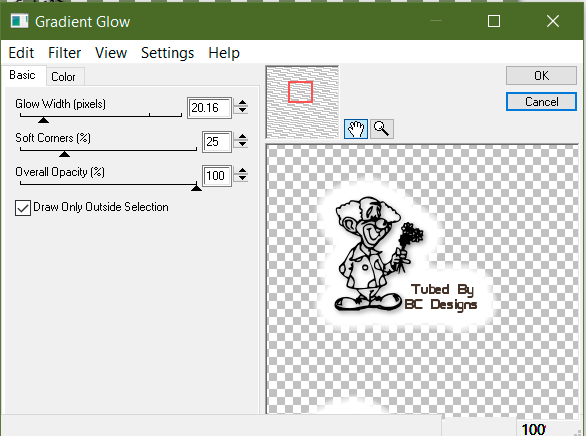 2: Under The Color Tab :
You will see a white box with different preset  options pick medium
Pick the color you want  ( Default is white you can change this later)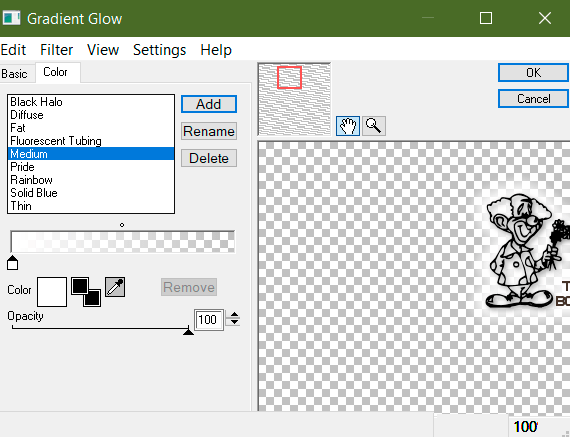 3: Still Under the Color Tab
You will see a paint can you might see only one ..  ( images above ) if you only have one make another paint can  How to :  If you click the paint can & move it …  it makes  a new one.
Just click the  paint can you just made  and move it toward the right to match mine  below … You should now only have two cans.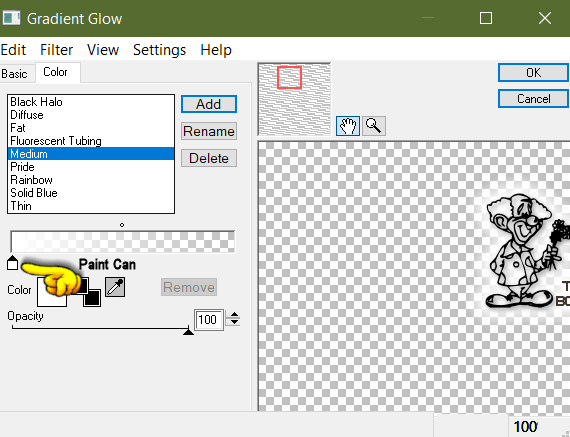 4: if you make a mistake or make to many paint cans just press the paint can you want deleted & press the Remove  button below beside Color  box
5: Set the Opacity to 100
 Saving The Preset :
You are done making the preset lets save it now .. there is two ways to save in Eye Candy Gradient Glow but I am not sure which way you need to Save it so let's save both ways.. to be sure it is saved
6:  Go to Settings under the Color Tab and press Save / & call it Fat or what ever you want …
7: ( I think this is the one you want but not sure )
Under Color Tab you will see three buttons Add, Rename , and Delete … Press Add and name It you can call it Fat or What ever  you want .. you should see it in the list in the white box
It should now show the preset in Eye Candy in PSP.   & In your Eye Candy 4 Plugin Folder Alien Skin\Eye Candy 4000\Eye Candy 4000 Settings/Gradients or Gradient Glow Folders,
That is about it  I hope this helps you out and gets your plugins working .. if you run into a problem I will be glad to help all you need to do is ask you can contact me ( Bev ) = Click Here on the blog or on The Bag A Snag Forum= Click Here
Thank you for stopping by and looking at my tutorial .. if this tutorial helped in any way and you like it please send me some love by pressing the heart ( above & below tutorial left ) .. have a nice day and  Happy PSPing …