Download Zip for print or saving to keep for later it contains the tutorial in pfd & rich text document & plus tutorial images
We made a zip file for you if you want to save or print the tutorials … The zip file contains the tutorial & images to the tutorial , the tutorials is in 2 formats, (Rich Text Document .RTF} &  (Portable Document Format .PDF ) . You would need a pdf reader click here . or If you have Windows 10 you can open  pdf files in the Edge, Chrome or Firefox Browsers ( That is what we use ).   To open the Rich Text Document use Wordpad that comes with Windows… .

PSP Plugin Trouble Shooter
If you bought a new computer , or You are up- grading your Paint Shop Pro to a new version ..
if you are having trouble with getting your plugins working please try our trouble shooter below …
These are the steps I always use to install my paint shop pro & plugins hope it helps
I have PSP 2022 and a Dell computer and Windows 10 Pro 64 bit All the plugins that I use only one plugin that I know that I can not get to work and that is Xenoflex1 but I have Xenoflex2 that I use instead .
Please Note : In the tutorial below, I think besides the Dlls & File Location steps 3 & 8 is most important steps getting the plugins working…. All the steps I have listed below is very important to do  please check out. and make sure to do all steps.
Recommended First:
If you are needing to uninstall & reinstall psp …. I recommend to use The Cleaning Tool for PSP , after you uninstall . They have for PSPX4 – 2022… after you uninstall PSP run this tool and reboot then reinstall PSP
https://forum.corel.com/EN/viewtopic.php?f=56&t=52337
Check Your Computer
You might already know about your computer….. If you do not know or want to double check ..
You need to find two things .. for the plugin help .. You need to know what Windows Edition and what System Type you are running..
This will help you to set up your plugins to run right .. Plus knowing the edition part might helps doing Tip:2 .. At the bottom of tutorial (Under Tips) be sure to check it out
1:
Go to your computer icon on your Desktop /Start Menu… If it is not there type My Computer,/Computer/ This PC into your search box and it should pop up…. I usually have mine on my desktop I like it there.
2:
Right click on icon a popup window will appear like image below
Under Windows / Edition :
you have Windows Home, Regular, Pro ,Professional , Ultimate, or… It might even say Nothing if it says nothing it is the Home Edition .
Under System/System Type:
It should say 32 or 64 bit ( it it says nothing- neither one it is a 32 bit ) this is the main info we need.)
( If you need to see the image better click on image)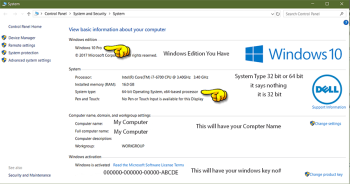 If you have a 32 bit you can skip step 3 & go to step 4

If you have a 64 bit please read & do step 3 .
. Some of the people I helped in the past did not know of Step 3
3:
PSPX6 -PSP 2022  & 64 bit users
Check to see if you installed it right.You have to install both 32 & 64bit PSP's to make old plugins work
After Install :
You will have 2 Workspaces, 2, Icons & Plus you have to set up your plugin in folders a little different then you have before
Read our tutorial "Install PSP if You Have 64 Bit" specially for more info …
Setting Up Plugins
4: Updates
Make sure you have your computer Windows update for the DLL's to work proper.
Make sure you have your Paint Shop Pro Updates ..
In PSP  auto update is not working at times but I always update manually you can find the updates
https://www.paintshoppro.com/en/support/updates/#product-tab=0&psp-version-tab=3
5 : Make sure you have all your PSP DLLs
Do have all your Dlls??? There is 10 of them for Windows10 . Do you have them in the right place… Make sure you reboot Computer Go here to download them and for directions
6: Set Administrator Rights for PSP on the computer.
Go to Start/ In Search Box put in Control Panel /Go User Accounts.
if you are not administrator, make yourself a admin account , or have the administrator of the computer to do it
There is two ways to do it ( click on image for better view)
A: Right click on the PSP icon pick Run As Administrator each time you open PSP
B: On The PSP Icon Right Click/ Properties/Compatibility /Application/ Run This Program as an administrator ( best way set it once )
if you have both PSP 32 and PSP 64 you have to set administrator for both icons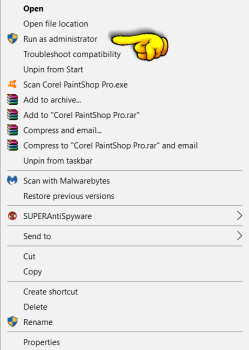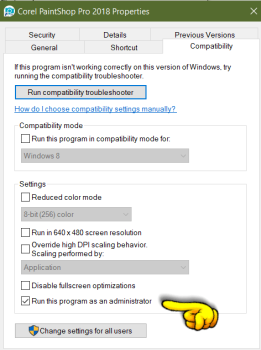 7: Make Sure You Set Your File Location to find your plugins in PSP
32 bit workspace
Go File /Preferences / File Location/Plugins
64 bit workspace
Go File /Preferences / File Location/Plugins
you must set up both PSP 32 and PSP 64 bit workspaces
---
Sill Having Trouble??
I

f you have Windows 7- 10 32 & 64 bit computer do step 8  & Tip #2 below
8: Add PSP on the DEP Exclusion List ( New Step )
If you add PSP to the DEP Exclusion List it stops plugins being rejected This step helps older plugins run on better on the newer Windows Version
it is very simple step to do and add Go here for directions &
That is all steps that I do when installing plugins but here is a few other tips below that might help with the plugins…
If you are still having trouble with plugins I recommend to try the tips below Specially Step 2
---
Still not working ?

Tips:
1: Use The FM Patcher Tool
This tool patches older plugins to make them compatible for newer PSP versions . This says only for Filter Meister Filters…. but it has fixed other older filters too.. to get the download and the directions
( If You Have Windows 10 Home or Windows 7-10 Pro ( Professional or Ultimate .)
To see what windows edition you have see steps 1 & 2 above
2: Run Paint Shop Pro & Plugins in Compatibility Mode With Older version of Windows.
You can run programs older plugins on older versions of Windows Windows 98, Windows XP, Windows 7 & 8.
The plugins that have installer applications like Eye Candy 3 and 4 , 5 & Filters Unlimited 2 Xenofex 1 and 2 I wrote a tutorial about it.
Do This Before & After you install programs and plugins Install the plugin .. it is simple promise
Tutorial :
Run Compatibility Mode

Other tips that might Help:
This tip is brand new for the current Paint Shop Pro 2018
3: In The current version of paint shop pro 2018-2022,
They have a new option of giving you 2 styles for your workspaces….. One is for beginners and one is for the diehards.
They have the Essentials ( beginners ) & Complete ( diehards) ..
They have the Essentials (beginners as default when installed ) .. It looks more prettier and less cluttered but you can not hardly do anything to the workspace…
You can not set up plugins & files or customize your workspace …. Plus they do not show all the tools in psp in the Essentials theme ..
So I Highly recommend to switch & use The Compete workspace if you want all the tools showing, organize your workspace, and organize your files and plugins.
To pick the Complete Worspace
Go PSP and File/ Workspace / Check Mark Complete close and reopen.
4:
Anytime you need to uninstall & reinstall Full Version of psp ( not upgrade ) I always buy Full version It runs better on my dell computer …
Use the Corel Cleanup Tool for PSP …. it helps get rid all the left over PSP files after uninstalling & . Before you reinstall it … they have it for PSPX4-PSP 2022
Run it after you uninstall PSP. & Reboot computer ..
https://forum.corel.com/EN/viewtopic.php?f=56&t=52337
That is about it I'm so sorry this is long just trying to get everything covered I hope this helps you out and gets your plugins working .. if you run into a problem I will be glad to help all you need to do is ask you can contact me ( Bev ) = Click Here on the blog or on The Bag A Snag Forum= Click Here
Thank you for stopping by and looking at my tutorial .. if this tutorial helped in any way and you like it please send me some love by pressing the heart ( above & below tutorial left ) .. have a nice day and good luck with the plugins